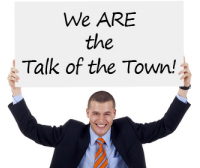 Rupa Vira Catering Services has been named a recipient of the 2013 Customer Satisfaction Award for Excellence in Customer Care, presented by Talk of the Town News, Customer Care News and Celebration Media.
The Talk of the Town awards program was created more than five years ago to showcase businesses ranked by consumers as the best in their respective fields. Each year we have helped businesses grow their reputations by awarding those that have excelled in customer care. This year, again, only the very best have been selected to receive the Talk of the Town Customer Satisfaction Award. Based on our research gathered during the past 12 months, Rupa Viras Catering Services has earned top honors and now has its very own award page on our website.
Ratings are calculated based on consumer-review websites and blogs, social networks, business rating services and other award information to determine the top companies across the country. Only those high ranking businesses with a 4-5 star rating win the Talk of the Town News Customer Satisfaction Award.